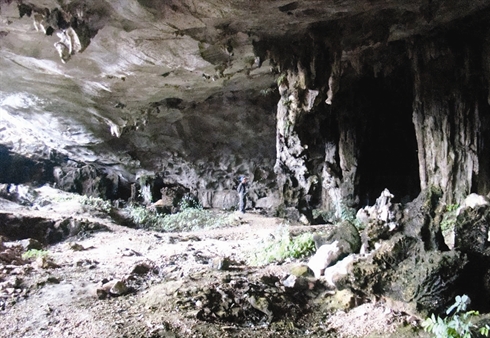 According to archaeologists , the Tien Ong cave , located in the Ha Long Bay ( Quang Ninh Province , North) , was lived there from 8000 to 10,000 years.Ông Tien cave (or cave Cai Duke ) , who was called by the French " cave CIEAU " is located on the island of Cai in the group of Hang Trai islands in Ha Long Bay . Archaeologists have found in November 2007 are stone tools , and many shells.

In 1938, J.Anerson a Swedish archaeologist , made an expedition along the coast and on the islands of Ha Long Bay and Bai Tu Long, including Tien Ong cave . In the latter, he discovered layers of sediment containing many shells and some rudimentary tools roller. Tien Ong cave is now one of the most remarkable of the Ha Long Bay archaeological remains.

Outstanding for nature

Most caves and grottoes in Ha Long Bay have a common point : wide entrance inside medium sized . Tien Ong Cave is exceptional. Its entrance is wide ( 70 m ) and its floor is 5 m above sea level at the entrance , there are blocks of which stalactites fell like an immortal . That is why the cave is called by the fishermen " Tien Ong ". According to the Management Committee of Ha Long Bay , the cave has an area of ​​1,000 sqm.

On 17 November 2007 , after several expeditions , archaeologists from the Museum of Vietnamese History ransacked some points in the cave on 60 sqm. They have unearthed stone tools (including axes and knives) , pieces of ceramics and bones ... which are rudimentary. Shells gender Cyclophorus and Melania are in large quantities. This cave was inhabited there are 8,000 to 10,000 years.

With the green light from the People's Committee of Quang Ninh , Tien Ong cave started to welcome tourists in November 2011, as part of the circuit village Cua Van - Ba Ham Lake .